RuneQuest: Roleplaying in Glorantha
Cena: 209.95 zł
Dostępność:
do miesiąca
(
sprawdź w punktach sprzedaży
)
RuneQuest: Roleplaying in Glorantha is an all-new edition of one of the world's most influential and acclaimed fantasy roleplaying games. First appearing almost 40 years ago, RuneQuest is as dynamic and vital as ever. This all-new, deluxe edition introduces RuneQuest and its setting of Glorantha to new players everywhere.
Try out a skill-based percentile system that balances experience-based progression with deadly combat!
The core rules of RuneQuest are essential for players and gamemasters, as they contain all the rules for character creation, starting homelands, background history, professions, skills, starting Runes and magic, and the cults and gods whose influence will define your character's activities. Further, the rules for character advancement are contained here, for the times between adventures.
An RPG with a difference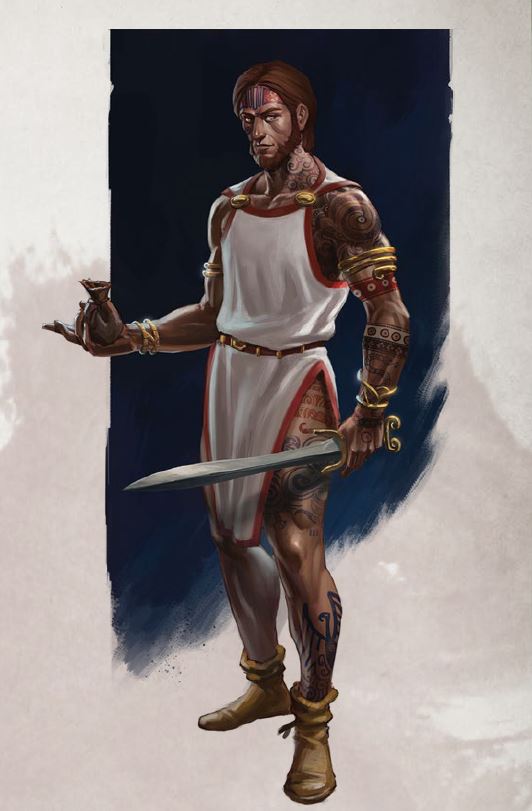 RuneQuest is part of Chaosium's D100 Basic Roleplaying system. It is intuitive and easy to play: virtually all rolls determining success or failure of a task are determined via the roll of percentile dice.
RuneQuest has no character classes or alignments; characters are defined by their culture, the gods they follow, and the Runes that inspire them.
Nor does the RuneQuest system use levels; instead, characters advance in skills and abilities by using them in course of play. Anyone can try to pick a lock, cast a spell, or decipher some ancient runic script.
Combat in RuneQuest is exciting, immersive, visceral and always potentially deadly; players should be mindful even the lowliest trollkin can take out an experienced warrior with a lucky blow.
Players will want this book to create their unique characters, diving into sorcery, picking their cult, or taking up shamanism to converse with mysterious spirits.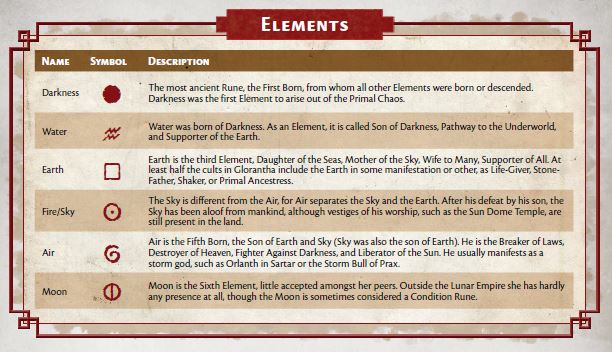 Gamemasters need this book, as it contains the core rules for the game, including task resolution, combat, and damage, as well as guidelines for special situations in combat, such as formations and chariots. These core rules are designed to be used in conjunction with the upcoming Glorantha Bestiary and the RuneQuest Gamemaster Pack and Screen.
Two Rules to Remember
You might be getting the feeling that with multiple editions and more than 40 years of existence, that RuneQuest and Glorantha are big! And they are. But Bigger than you can manage? A steep wall that can't be climbed? Nothing could be further from the truth!
Over the years, Glorantha has existed in many incarnations - roleplaying games, boardgames, computer games, fiction, etc. - and many inconsistencies have crept in, or been deliberately introduced.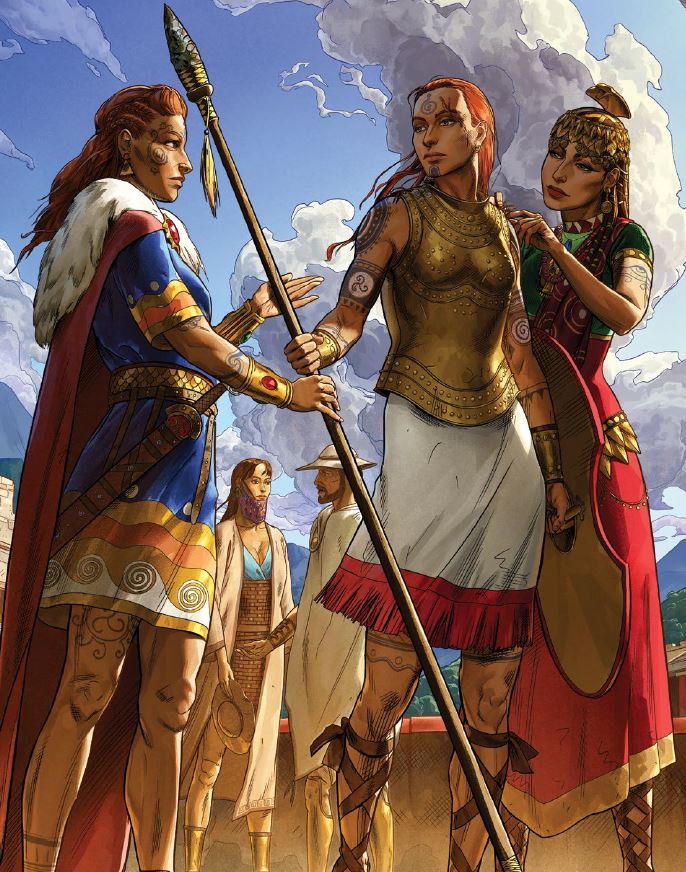 That's a good thing! Myths have many versions, and the mythic world of Glorantha is no different, with wildly divergent beliefs about how the world works, how history played out, the influence of groups and individuals, etc. This perfectly sets the stage for you, whether a player or gamemaster, to determine your own vision of the world and how things work for you and your fellow players.
Two important principles have developed among fans of the setting, and should always be kept in mind:
Your Glorantha May Vary - This is the belief that you and your group are ultimately the ones who decide what the world is like. You can use or ignore published materials, change them as desired, and introduce your own elements to Glorantha. Think of it like a buffet: you can take what you want and leave the rest. Combine things to suit your own taste. You know better than anyone else what works for you.
Maximum Game Fun - If an aspect of your game is fun, that's a good thing. If something is not fun, whether it's rules lawyering or excessive attention to background, then ignore it or de-emphasize it. The point of playing this game - or any other - is enjoyment, and anything that stands in the way of that experience should be carefully rejected.
This new edition has been explicitly written with the goal of approachability, reaching out to new players and gamemasters as well as returning fans, making sure that the game line remains vital and engaging for everyone.
Podstawowe informacje
Liczba stron:
445

Rodzaj oprawy:
twarda

Waga:
ok. 1.200 kg

Wydawca:
Chaosium Inc.
Wydanie:
angielskie

Zawartość pudełka:
podręcznik w twardej oprawie, 445 stron
Zobacz koniecznie:
dodaj recenzję / link
UWAGA! Zamawiając ten produkt u nas oszczędzasz nie płacąc za przesyłkę!! » więcej informacji...
Galeria
(kliknij na zdjęcie aby zobaczyć jego powiększenie)
---
Inne produkty w tej kategorii:
---
Przygoda wraz z podstawowymi zasadami...,
cena: 29.95 zł



Niezbędnik Mistrza Gry,
cena: 114.95 zł



Miriady potworów, które poddadzą próbie...,
cena: 149.95 zł



Klasyczna gra RPG z 1980...,
cena: 99.95 zł



Podręcznik wraz z ekranem mistrza...,
cena: 159.95 zł



An epic campaign set in...,
cena: 129.95 zł


Klienci, którzy kupili RuneQuest: Roleplaying in Glorantha, kupili również...:
---
Miriady potworów, które poddadzą próbie...,
cena: 149.95 zł



Postaw wszystko na jedną kartę!,
cena: 189.95 zł



Uwolnij swoją wyobraźnię!,
cena: 94.95 zł



Weź udział w obronie miast...,
cena: 179.95 zł



Kompletna kampania z 20 nowymi...,
cena: 129.95 zł



Opis klanu Czerwonej Krowy w...,
cena: 129.95 zł


Komentarze do tego produktu:
---
Podręcznik otrzymałem w prezencie i zdecydowanie był to jeden z najlepszych prezentów jakie kiedykolwiek dostałem.

Książka jest wydana przepięknie: twarda oprawa, szycie, papier wysokiej jakości, pełen kolor, a do tego wstążka służąca jako zakładka. Niby standard w branży, ale jednak warto o tym powiedzieć. Od razu czuć, że obcuje się z produktem z górnej półki (co uzasadnia też cenę).

Najnowsza edycja RQ (potocznie zwana RQG) jest rozwinięciem idei zapoczątkowanych 40 lat temu w 2. edycji systemu. Całkiem adekwatne podejście, zwłaszcza jeśli zważy się na fakt, że tworzona była przez ojców systemu: Grega Stafforda i Steve'a Perrina (nie licząc rzecz jasna całego grona pozostałych zdolnych ludzi z Chaosium). Mechanika RQG jest silnie ożeniona z settingiem gry, Gloranthą; bardziej niż jakakolwiek z poprzednich odsłon systemu.

RQG jest grą dla ludzi o wyrobionym guście erpegowym i pomimo łatki "fantasy" daleką od jakichkolwiek innych systemów. Wymaga poświęcenia jej odrobiny czasu i uwagi, w zamian dając bogate doświadczenia różne od tych dostarczanych przez inne popularne systemy.

Gdyby erppegi były jedzeniem, to D&D byłoby hamburgerem i colą z McDonald's, a RQG wykwintną kolacją przy lampce drogiego wina w eleganckiej restauracji.