Arkham Horror: The Deep Gate (twarda oprawa)
Nowela Chrisa A. Jacksona i 5 unikalnych kart
Cena: 59.95 zł
Dostępność:
w magazynie
( wysyłka JUTRO
- sprawdź w punktach sprzedaży
)
"I dream under the sea, and I see faces, bloated faces with bulging eyes. They remind me of people I knew as a boy, half-drowned, but not dead." Silas shivered, but not from the chill gusts blowing through the open door.
Pointed teeth grinned, webbed hands reaching for him, glowing eyes in the darkness… He couldn't tell Martin those details, of course. Some things you couldn't say aloud if you wanted to stay out of the madhouse.
- Chris A. Jackson, The Deep Gate
Discover what secrets have been drowned in Devil Reef in Arkham Horror: The Deep Gate!
This Arkham Horror novella by Chris A. Jackson takes readers on a voyage up the Miskatonic River running through Arkham and the along the coasts of fear-shadowed Innsmouth where sailor Silas Marsh seeks answers about the nightmares that have plagued him since his parents' death.
Including full-color inserts of the evidence that Silas has at his disposal, this thrilling novella invites readers to step into the role of investigators searching for answers alongside Silas. But be wary- each answer you uncover brings you closer to the dangers that lurk just beneath the waves.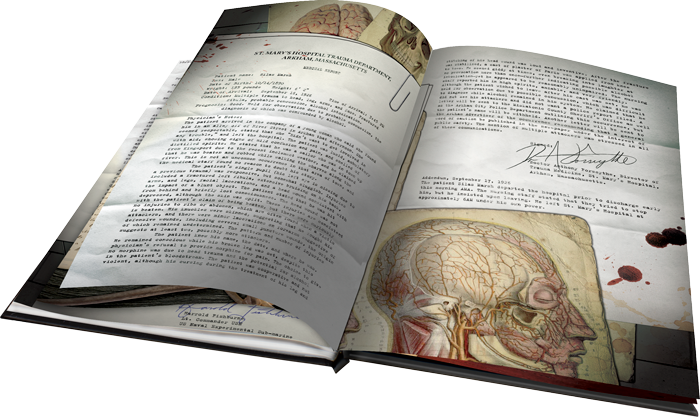 In addition to a hardcover copy of the novella, Arkham Horror: The Deep Gate includes four exclusive cards for Arkham Horror: The Card Game which allow players to add Silas Marsh to their team of investigators, marking his first appearance in the game.
These cards enable players to build a deck for Silas Marsh, complete with a signature asset and weakness. With these new implements to expand your investigations in the Arkham Horror Files universe, you are ready to set sail and confront the evils that arise from The Deep Gate!

Uwaga! To nie jest samodzielna gra! Do rozgrywki wymagana jest podstawowa wersja gry: Arkham Horror: The Card Game.
Podstawowe informacje
Liczba graczy:
1 - 2 (4) osoby
Liczba stron:
96

Rodzaj oprawy:
twarda

Waga:
ok. 0.300 kg


Losowość

:

Interakcja

:

Złożoność

:
oddane głosy:

2

Twój głos został zapisany!
()

Wydawca:
Fantasy Flight Games
Projektant:
Nate French Matthew Newman

Pasujące koszulki:
classic card game (63,5x88)
Wydanie:
angielskie

Zawartość pudełka:
książka w twardej oprawie, 96 stron
karty do Arkham Horror: The Card Game.
Zobacz koniecznie:
dodaj recenzję / link
Galeria
(kliknij na zdjęcie aby zobaczyć jego powiększenie)
---
Inne produkty w tej kategorii:
---
Ponad 40 autorów i ich...,
cena: 149.95 zł



R.J. Ivankovic,
cena: 49.95 zł



Nowela autorstwa Richarda Lee Byersa...,
cena: 64.95 zł



Nowela autora Graeme'a Davisa i...,
cena: 69.95 zł



Nowela autorstwa Dave'a Grossa i...,
cena: 59.95 zł



Cassilda's Song is...,
cena: 49.95 zł


Klienci, którzy kupili Arkham Horror: The Deep Gate (twarda oprawa), kupili również...:
---
Nowela autora Graeme'a Davisa i...,
cena: 69.95 zł



Nowela autorstwa Dave'a Grossa i...,
cena: 59.95 zł



R.J. Ivankovic,
cena: 49.95 zł



Nowela autorstwa Roberta Dentona III...,
cena: 54.95 zł



Nowela autorstwa Mari Murdock oraz...,
cena: 54.95 zł



Tobin, Querio,
cena: 42.95 zł